Ferndale Lodge - Torquay
Ferndale Lodge - Torquay
50.47015

,

-3.5319
$

$$$
|
View on map
Torquay

,

United Kingdom
|
Reservation:
+44-160-073-8777
|
75 photos
85£
Overview
Located a 14-minute walk from Torquay United FC Stadium, which is highly appreciated by sports lovers, the 4-star Ferndale Lodge Torquay includes 9 rooms. This Torquay bed & breakfast offers a car park on site.
Location
The property is based approximately 17 minutes' walk from Torre Abbey Museum and Gardens and at a short distance from Parish Church Of Christ Church. The hotel is about a 5-minute walk from Agatha Christie Mile, and Babbacombe Beach, where guests can indulge in relaxation, stands around 2.5 km away. There is the life-sized Victorian Bygones Shopping Street 19 minutes' walk away, while Torquay Coach bus station just a pleasant stroll away from the accommodation.
Rooms
The rooms feature coffee/tea making machines, as well as a flat-screen TV with satellite channels for your convenience. Nice touches include a walk-in shower and a separate toilet, along with a hair dryer and a shower cap.
Eat & Drink
The Ferndale Lodge Torquay offers breakfast in the restaurant. Coopers Coffee House treats guests with British dishes and lies about 5 minutes' walk from the property.
Good to know
Amenities
Private parking is possible on site for free.
Wireless internet is available in the entire hotel for free.
Other information
Breakfast
At the hotel Ferndale Lodge guests are invited to a full breakfast served for free. 
Children & extra beds
There are no cots provided in a room. 
Languages
English, Dutch, Russian, Lithuanian
Rooms and availability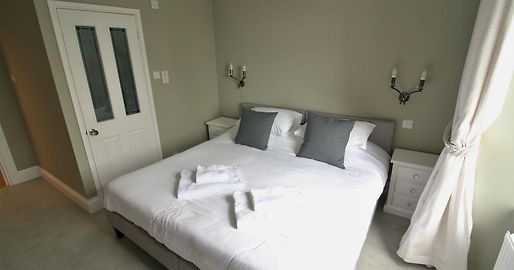 Max:

2 persons

Room size:

13 m²

Bed options: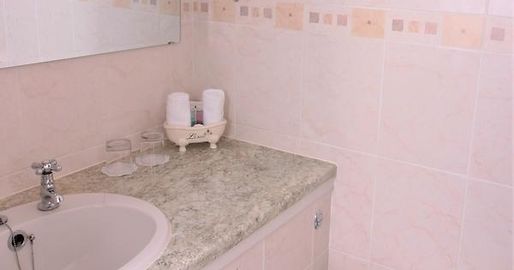 Max:

2 persons

Room size:

17 m²

Bed options: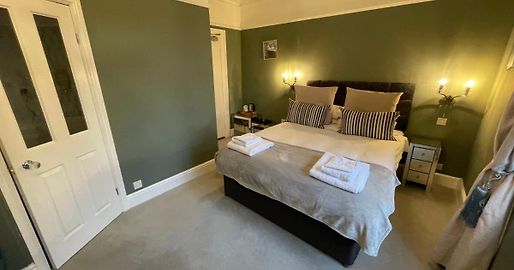 Max:

2 persons

Room size:

18 m²

Bed options:
Show 1 more room type
Less
Facilities
Main facilities
Bar/ Lounge area
Restaurant
Dining
Breakfast
Restaurant
Bar/ Lounge area
Room features
Patio
Tea and coffee facilities
Ironing facilities
Show all facilities
Hide facilities
Essential information about Ferndale Lodge
| | |
| --- | --- |
| 💵 Lowest room price | 85 £ |
| 📏 Distance to centre | 1.1 km |
| ✈️ Distance to airport | 41.6 km |
| 🧳 Nearest airport | Exeter International, EXT |
Location
Address
The address has been copied.
22 St Marychurch Road
,
Torquay
,
United Kingdom
,England
22 St Marychurch Road
,
Torquay
,
United Kingdom
,England
City landmarks
Nearby
Restaurants
Hotels nearby
Chestnut Avenue
Riviera International Centre
1.2 km
Park
Torre Abbey Museum and Gardens
1.3 km
Hampton Avenue Babbacombe
Babbacombe Model Village
1.7 km
Fore Street St Marychurch
Church
Riviera Life Church
1.3 km
Museum
Torquay's Dinosaur World
1.3 km
Bridge
South West Coast Path Walk- Meadfoot & London Bridge
680 m
Rock Walk
The Royal Terrace Gardens
830 m
23 Victoria Parade
The Real Crime Museum
1.3 km
Torquay Station Rathmore Road
The Agatha Christie Mile Path Walk
1.2 km
Torquay Marina Vaughan Road
Restaurant
Brody's Breakfast Bistro
280 m
Restaurant
Coopers Coffee House
330 m
Restaurant
Avanti Italian Restaurant & Pizzeria
600 m
Restaurant
Terra Marique ​Vegan Restaurant
400 m
Reviews of Ferndale Lodge
Share your experience with us.
Write a Review
Angela

The staff were super-friendly during our whole stay. We booked a superior king room with very comfortable beds and thoroughly enjoyed it.

Philip

We appreciated super and wonderful breakfasts and great views!

Our room had a very clean bed, it was very well decorated and well-equipped.

Frank

The staff were warm & welcoming. The room was clean, comfortable, and nicely decorated. The beds were really comfortable. The breakfast had lots of selection and was fresh and delicious. Great location, convenient for exploring Torquay and nearby areas. The hotel had a relaxed atmosphere and the rooms were cleaned to a high standard every day.

Couldn't fault.

Thomas

Everything was nice, homely hotel, the location was perfect right by the theatre, a slight hill and a slope on a hill. The rooms were all neat and en suite with a grand four poster bed.

Jimmy

I had a fantastic stay at this luxurious hotel. The location was perfect, situated in a quiet area of town, away from the hustle and bustle. The hotel itself was beautifully decorated and had a lovely garden where I could relax and unwind. The room was clean and comfortable with all the necessary amenities I needed for a comfortable stay. The staff were extremely friendly and attentive, always there to assist me with any queries I had. The breakfast was exceptional, with a wide variety of choices and everything was presented beautifully. this place exceeded my expectations and provided me with enhanced comfort and quality services.

This venue may not be suitable for families with mobility issues due to its location on a steep hill. However, I would still highly recommend this hotel for families looking for a luxurious and comfortable stay.

R.

The room I booked was functional and neat with new mattress, tea and a very very comfortable bed. Location: the hotel was near to shops / harbour, the quayside where there were plenty of bars and Torquay for a couple of nights.

Richard

No complaint, enjoyed my really lovely stay and can't wait to go back. Homey hotel with good wi-fi, the location was ideal to harbour. The staff were accommodating and were around whole time.

William

Amazing stay with great service! The room was clean and comfortable, and the bed was super cozy. We loved the breakfast, it was delicious and piping hot. The staff was friendly and helpful, ensuring we had everything we needed. We also appreciated the guest kitchen, it had a coffee machine, extra toiletries, and a fridge for our convenience. The location was perfect, just a short walk away from the town center and the bay. a fantastic experience!

The only downside we found was the lack of clear parking signs in the town center. It was a bit tiring to climb the hill back up to the hotel after exploring.

Alastair

Clean and comfortable rooms. Helpful and friendly staff. Convenient guest kitchen. Delicious breakfast options. Nice patio/garden area for relaxing.

Mick

Can be described as a very very good experience, would recomand. Modern hotel, breakfast is exceptional and the rooms are en suite, perfect location to large Chinese restaurant. The service is exceptional, includes good parking. Moreover, guests can use parking on site.

Gerard

We had a great value for our money at Ferndale Lodge. The room was comfortable and nicely decorated. The location was convenient, just a short walk to town and the harbor. The staff were friendly and provided helpful tips on what to do and see.

The menu for breakfast could have had more variety.

Edward

The location of this hotel is great for those who want to be fairly close to Babbacombe beach, which is lovely and you can walk there. It's also not far from the town center, you just need to walk down the hill. The rooms are comfortable, with fresh sheets and towels provided. The breakfast is well worth the money, with a good choice of dishes, and the staff are friendly.

The hotel lacks in modern facilities, and the wifi connection is poor.

Chris

I had an excellent stay at a clean, comfortable and friendly family-run lodge. The warm welcome and local info provided were a nice touch. The ensuite four-poster room was lovely and fully equipped with amenities. The breakfast was amazing, with a wide variety of options. The lodge is located close to the harbor and restaurants. I highly recommend this place for a great value stay.

Arthur

Great stay! The recently renovated hotel had a clean room, with a full bathroom kit, and a comfortable bed. Breakfast was cooked to order and delicious! The hotel staff was very friendly and always ready to help. The patio area outside was relaxing and serene, with a fantastic view. The location was perfect too, just a short walk to the town centre, and the harbour was a bit further. Hand sanitizers were provided at the reception.

I had an attic room that was quite small, had a sloping ceiling , and was facing a main road - it was quite noisy. Additionally, the TV was small and on a small table, making it difficult for more than one person to enjoy.

Sam

Stayed at this lovely little guest house for a weekend getaway. The clean and well-maintained rooms had cozy single beds with comfortable bedding. Surprisingly quiet on the first floor. The breakfast menu offered delicious options like salmon and avo, and the breakfast bar had good quality items. The hosts were welcoming and went above and beyond, ensuring we had everything we needed to celebrate a special occasion. Free private parking and a great view from the location. a relaxed and friendly atmosphere.

Totally recommend this hotel.
FAQ about Ferndale Lodge
Which attractions can we visit during our stay at the Ferndale Lodge?
Staying at the Ferndale Lodge, you shouldn't miss Torquay's main landmarks, The Market Forum and Torquay Musuem Museum, located within 5 and 20 minutes on foot respectively.
What is the closest airport to Ferndale Lodge?
Exeter International airport is located within a 36-minute drive (45 km) from Ferndale Lodge.
Is there free parking in the 4-star Ferndale Lodge?
Yes, at the 4-star Ferndale Lodge free private parking is provided on site for free.
Can I eat breakfast at the Torquay bed & breakfast?
Yes, guests can enjoy a full English breakfast provided by the Torquay bed & breakfast.
What is check-in and check-out time at the 4-star Ferndale Lodge?
Guests of the 4-star Ferndale Lodge can check in from 14:00 to 21:00 and check out from 07:00. Late check-in is also possible by prior arrangement with the property.
What are the booking prices at the bed & breakfast?
The prices at the bed & breakfast start from £109.
What room types does the 4-star Ferndale Lodge comprise?
The 4-star Ferndale Lodge offers such room types as Superior King Room, Twin Room and Guest Room.
Which facilities are offered in the rooms of the 4-star Ferndale Lodge?
All rooms of the 4-star Ferndale Lodge feature coffee and tea making facilities as well as smoke detectors, some of them boast a cupboard and a work desk.
Does the staff at the hotel speak any foreign languages?
Yes, the staff of the hotel can help you in English, Dutch, Russian and Lithuanian.
Tourists from United Kingdom often stay at these properties. Ideas for your future trips.
Cedar Lodge: 7.4 / 10 - Very good | 685 reviews | 76.99£ / night
Theater Hotel Salzburg: 7.9 / 10 - Very good | 1302 reviews | 109.20£ / night
Makis Place: 9.3 / 10 - Perfect | 178 reviews | 86.42£ / night
Hotel Monte Ulia: 7.8 / 10 - Very good | 383 reviews | 51.85£ / night